This year's front porch is festive, magical, and the perfect way to welcome guests into my home for the holidays.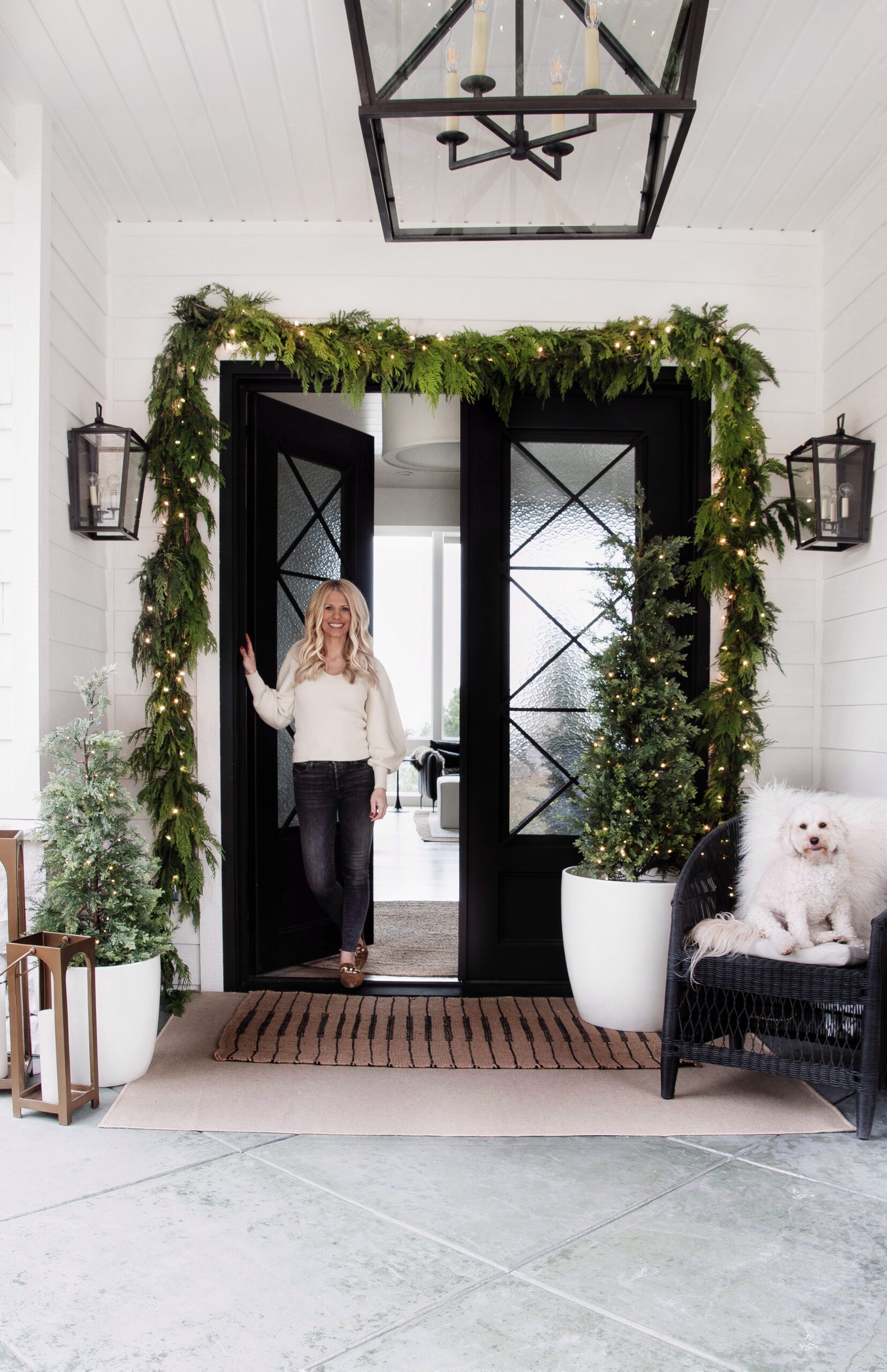 The holiday season is upon us, and there's no better way to get into the spirit than by decking out your front porch with festive decor! Twinkle trees, entry rugs, planters, wreaths, lanterns, bells, and bows are the essentials I use to create a welcoming and warm space for my friends and family. View my entire holiday collection, or keep reading to discover my must-haves for creating a magical holiday front porch.
Twinkle Trees
I love adding twinkle trees for festive holiday front porch decor. It's such an easy and elegant way to add some sparkle and magic to your outdoor space. And the best part is, there are so many different styles and sizes to choose from, so you can find the perfect tree for your porch!
Pre-lit trees are exactly what they sound like: trees that come pre-installed with twinkle lights. This means that you don't have to spend hours untangling strings of lights or trying to get the lights evenly distributed on the tree. Instead, you can simply unpack your tree, plug it in, and enjoy the twinkling display!
Entry Rug
When choosing an entry rug for your front porch, it's important to consider the size, material, and color of the rug. A rug that's too small will look out of place, while a rug that's too large may crowd the space and make it feel cluttered. As for material, an indoor/outdoor rug is a great choice for a front porch because it can withstand the elements and is easy to clean.
Choose a rug that complements the other elements of your porch decor. If you have planters filled with colorful seasonal plants, you might want to choose a rug in a neutral color so as not to compete with the plants. On the other hand, if your porch is decorated in a more monochromatic scheme, a brightly-colored rug can add a pop of interest and vibrancy.
Once you've chosen the perfect entry rug for your front porch, be sure to anchor it in place with double-sided tape or rug pads to prevent it from slipping and sliding. 
Planters
Planters are a great way to add a pop of color to your holiday front porch. Whether you opt for traditional pots or more creative containers, such as baskets or barrels, planters are a versatile and easy way to bring the beauty of nature to your outdoor space.
When choosing plants for your porch planters, opt for seasonal varieties that will thrive in the winter weather. Evergreen branches, holly, and pinecones are all excellent options that will add texture and interest to your porch decor. You can also try mixing and matching different plants to create a more eclectic and dynamic display.
Planters can be used to frame your front door, line the edges of your porch, or add height and dimension to your decor. Just be sure to keep in mind the size and scale of your planters, and choose a location that will showcase them to their best advantage.
Wreaths
I typically don't use wreaths but decided to this year. I love the pretty detail they add. Whether you opt for a traditional wreath made of evergreen branches, or a more modern design that incorporates ribbon, ornaments, or other decorative elements, a wreath is an easy and elegant way to add charm and character to your front porch.
When choosing a wreath for your front door, consider the style and architecture of your home. A rustic, natural wreath may be the perfect choice for a cozy cottage, while a sleek and modern wreath could be the ideal match for a contemporary home. You can also play with different sizes and shapes of wreaths to create a unique and personal look for your home.
To hang your wreath, use a sturdy wreath hanger that's designed to support the weight of the wreath. You can also add a ribbon or other decorative element to the back of the wreath to give it a more polished and finished look.
Bells & Bows
Bells and bows are the perfect finishing touch for any holiday front porch. These small, whimsical elements can add a touch of fun and festivity to your decor, and they're easy to incorporate into your existing porch design.
Bows are another versatile and charming element that can be used to add interest and texture to your holiday front porch. You can use bows to adorn your wreath, wrap them around lanterns or planters, or tie them to your porch railings or banisters. When choosing bows, opt for high-quality ribbons that will hold their shape and color, and consider mixing and matching different colors and patterns to create a playful and dynamic look.
With these tips and tricks, you'll be well on your way to creating a front porch that's both festive and inviting. Happy holidays!