Tips for entertaining this holiday season and how to Host a fabulous Christmas party!
The Holiday season is a time of year filled with entertaining, parties, and social gatherings. Whether you're planning a large party or a small, intimate get together, it is the Host's attention to detail that impresses the guests the most. Entertaining during the holiday can seem more stressful than enjoyable. But with a little bit of planning and some creativity, you'll be on your way to hosting a fabulous party. Here are my go to tips for when I am preparing to host for the Holidays!

1-2 Weeks Ahead
Select a Theme:

Plan your menu, decide how you want the party to "feel", and choose your color palette.

Start your grocery list.

I always think of things I need to add as time goes on.

Order or pick up party accents.

Decor, serving pieces, plates, napkins, placemats &

table accents.
One Week Ahead
Too many times I waited until the day before or the day of an event to move around furniture, change out faux floral stems, remove and set up decor on table/serving areas, and I was rushed for time. Doing this a week ahead of time makes the rest of your week so much smoother. This is also a great time to "pickup" your home and any misplaced items. It is a bit too early to actually clean, but make sure that things are in their place and clutter is removed.
It will be easier to add decor and fresh florals closer to your event if everything else is already picked up.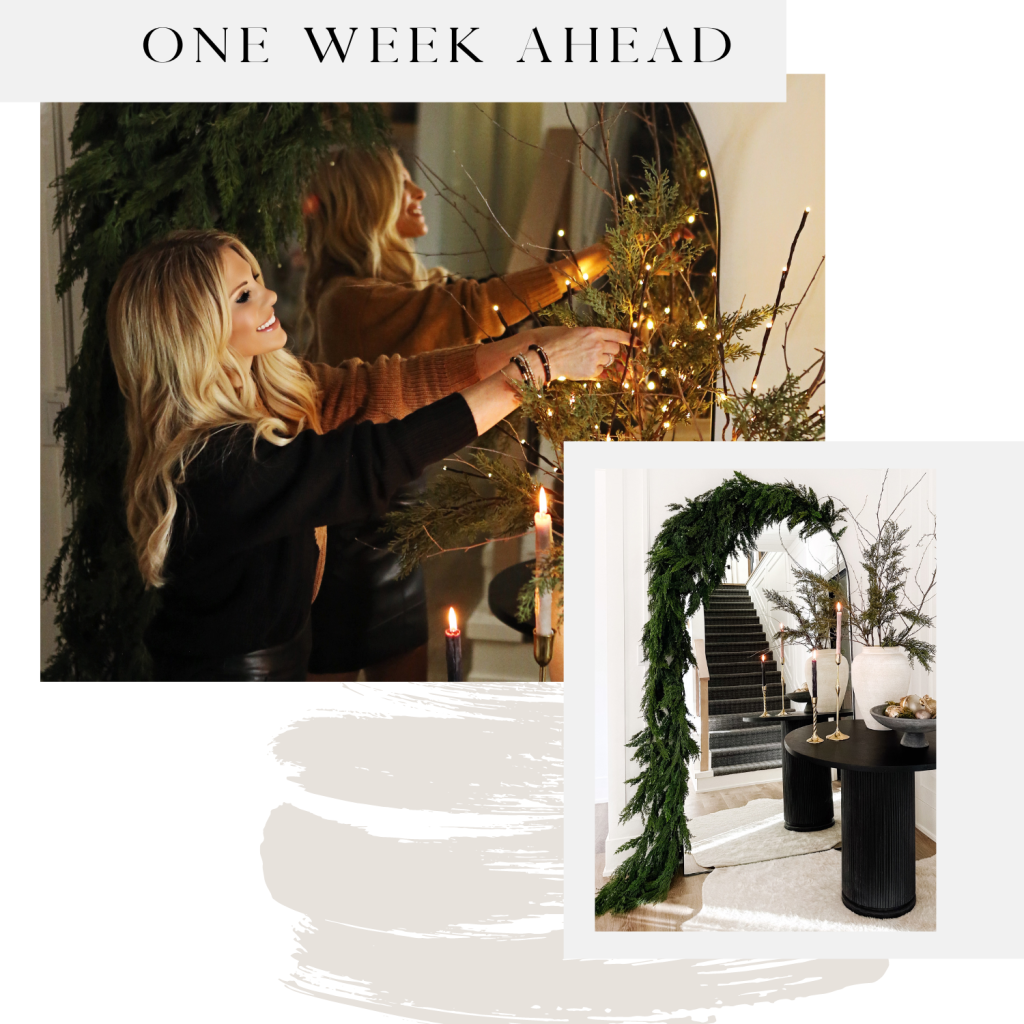 2-3 Days Ahead
Clean or have your home cleaned.

You will still have to do a quick wipe down and vacuum the day of the party, but most things will stay clean for a few days.

Review your grocery list and recipes one last time.

Place your grocery delivery order and run any errands that you may need to to pick up fresh florals (generally 2 days before event), or grab groceries if you do not do delivery.

Set your table if possible.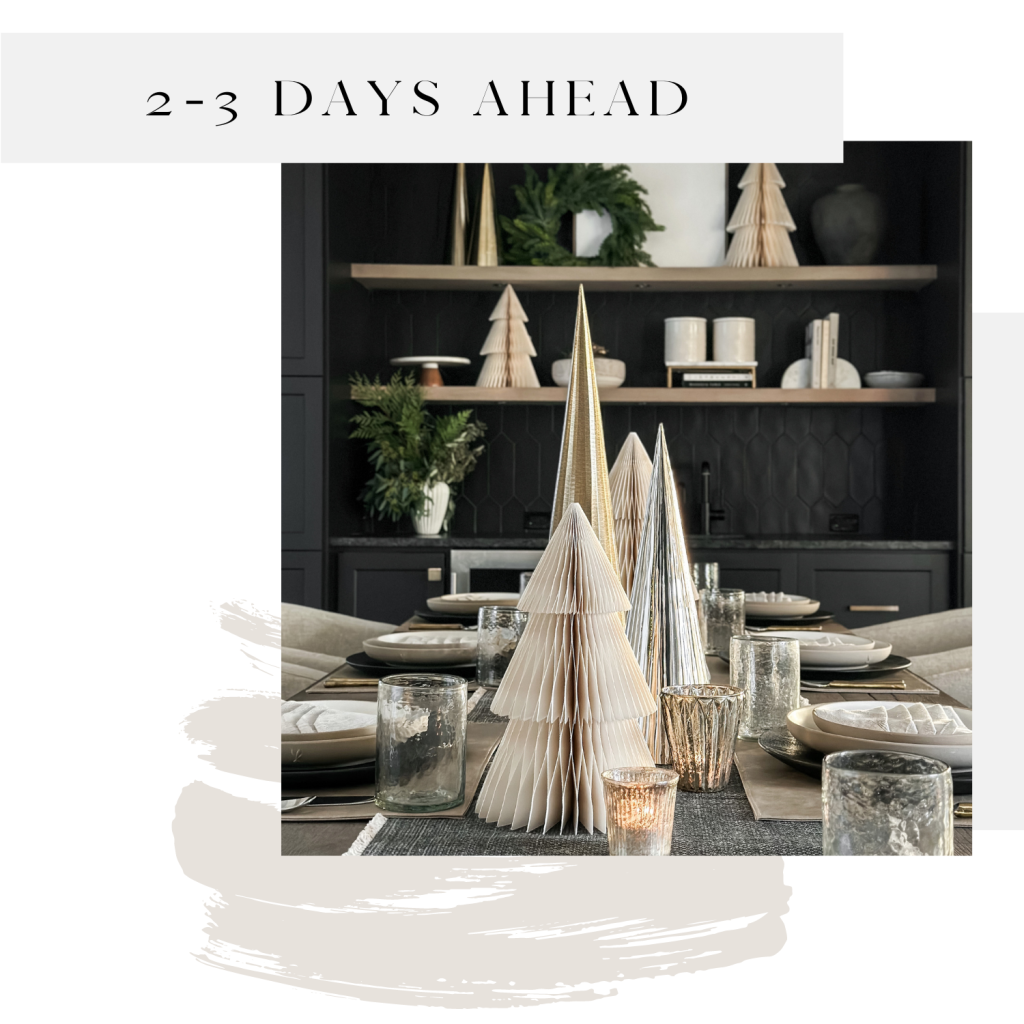 The Day Before
My number one Rule for the day before a bigger event is NOT leave your home unless you absolutely have to. This is the day to complete everything that can be prepped ahead of time!
Put Up Decorations:

Banners, Balloon Garlands, &

Floral Arrangements.

Set Up Drink Station:

Ice buckets, glasses, water and drink pitchers, &

glass

pens,

PREP ALL FOOD:

Create Charcuterie Boards, Mix Batch Beverages, Prep Salads and Pastas, make Marinades and Sauces.

I make my mashed/scalloped/cheesy potatoes the day before. The mashed I cook and heat the day of…they are yummy, and the other two I put together and bake the day of the event. I mixed up my Quiche filling the night before, and made my orzo salad.

All of this preparation will make the day

of so much easier!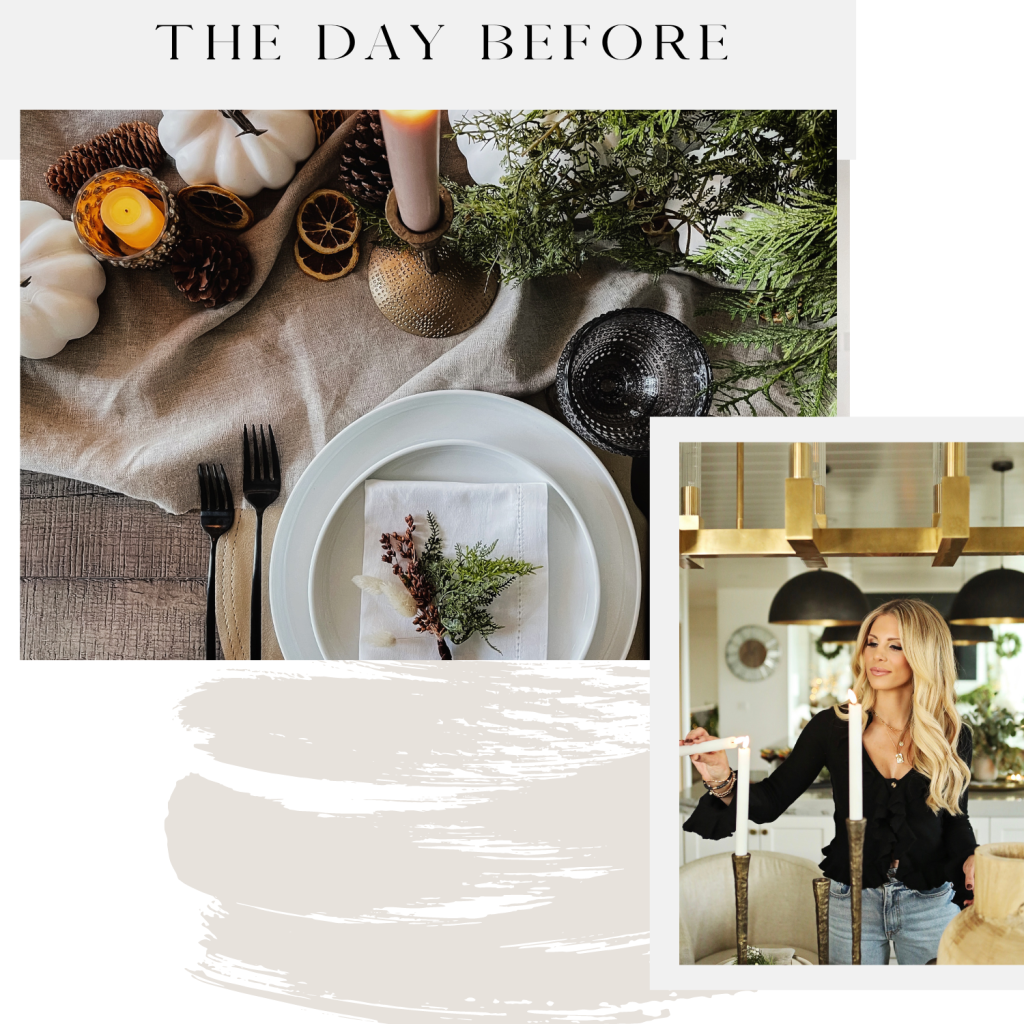 The Day of: Party Time!
Start off the Day by Getting Ready.

Fix your hair and makeup, though

you may have to freshen up later, it is much easier than being rushed as your guests arrive.

PREP ALL FOOD:

There are always a few food items that are not possible to prep the day before an event. Now is the time to do that.

Your Final Clean:

Now is the time to vacuum and wipe off your counters. Make sure that you are fully stocked on toilet paper (

speaking from experience, you do not want to run out with a house full of people.
#0-60 min Before the Party:

Fill ice buckets, mix drinks, set out food , and light candles.
NOW it is time to have fun and actually ENJOY your party or holiday!