Can you believe that as soon as I walked though the front door of this home I knew that this was where we would raise our family?
Four years ago we embarked on a journey to build a new home for our family of six. We sold our home the first day it hit the market, found a beautiful one acre lot, and designed our dream home. While I was excited to bring our dream and design to life, I was never 100% sold on the location. Though it was an absolutely stunning area, but something just did not feel right. Everyday I continued to look online to see if something else caught my eye, and one day it finally did.
There had been a home on the market in our dream neighborhood for awhile, but the pictures online did not do it justice. The listing pictures did not show the stunning view or make it very clear as to how big the lot truly was. At one point, I had wanted to look at the home, but they had pulled it off of the market for a short period of time. Four days before our lot was set to close, I could no longer deny the nagging feeling that I needed to go and at least take one look at this home.
As soon as I walked through the front door and saw the incredible view over the tops of pine trees, I started picturing those stunning trees covered in snow, and I was immediately sold! Obviously, the home needed a little facelift, and an addition for a new Dining Room and Laundry Room to fit our family, but I knew this was it. We loved the location, and that, in our mind, was priceless.
After building two additions–more on the second one later–and almost completely tearing the entire home down to the studs, we have transformed this house into our dream home.
Here are a few of our favorite spaces. In the near future, I will share each one individually and more in depth, as well as all of the other spaces not featured in the post.
---
Kitchen
Originally the home ended on the back wall of the kitchen. The island only held held 3 stools, it had a small dine-in area between the Kitchen and Great Room, and the formal Dining Room was where my Sitting Room is now. We wanted a larger island so that we could all sit together, and though we wanted our Dining Room to feel separate, we also wanted it closer to the kitchen. The best solution was to bump out our kitchen wall 15 feet to accommodate two 4'x8′ islands in our Kitchen and the new Dining Room and Laundry Room. This addition provided the space for our family, entertaining, and storage that we needed. This area of our home is by far my favorite space.
The Addition: Our New Dining Room & Laundry Room
Gathering as a family for meals is very important in our family. While we do sit at the island for meals a lot as well, we eat several meals a week in our Dining Room, and our Dining Room Bar area is hands down one of the most used spaces in our home. It houses our hidden Coffee Bar, our Hidden Microwave area, a pebble ice machine, beverage cooler, hot water tap, and bar sink. I did have to give up a walk-in pantry for this space, but have never regretted it for a single minute.
Great Room
Our Great Room is home to the most asked about feature in our home…Our Fireplace. This 13′ high fireplace that consists of 4 slabs of granite is definitely a scroll stopper. Another. big change we made to this space was to make the windows larger to bring in more natural light and take advantage of our stunning view.
---
Entryway
It is all about the first impression! Removing the single door with sidelights and adding 8′ tall French doors from Castle Heart Iron Doors created a grand entrance and let in more light.
Exterior
The power of paint! After everything we did to the inside we decided to hold off on the exterior renovation and just paint everything Zurich White by Sherwin Williams.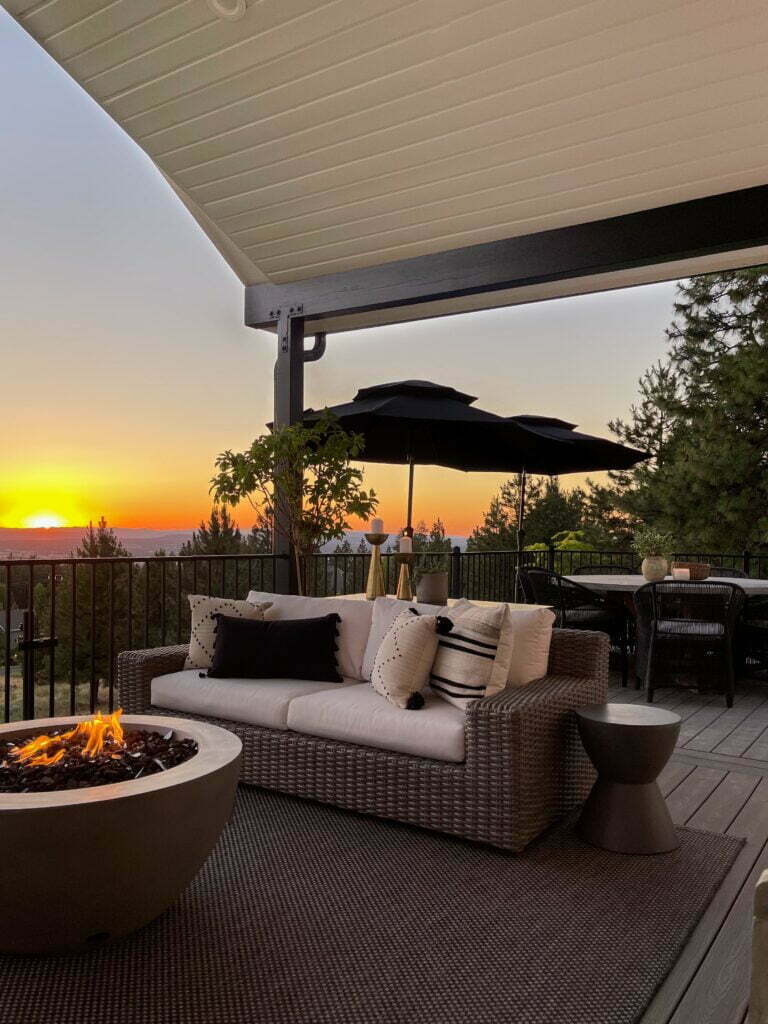 ---
This right here is the reason we fell in love with our home and plan on being here for a very long time.
Full Breakdown of Each Space Coming Soon
Stay tuned for the rest of my blog series which will cover each area in our home on an individual basis. I will walk you through all of the choices we made including what I'm loving and what I wish we had done differently. Whether you're thinking of undertaking your own remodel or just enjoy a good before and after photo, you're not going to want to miss it!