The main trends for this holiday season are warmth, luxury, and magic.
The holidays might not be on everyone's mind yet, but part of my job is that I'm always thinking a season ahead and looking for what's trending so I can share the best of the best finds with all of you. Holiday decor shopping is in full swing and some things are already selling out. If you're looking to give your holiday decor a refresh, or just add a few new special pieces this year, the time to buy is now!
Here are some of the top holiday trends that I'm seeing this year. You can shop my holiday collection, including my favorite holiday pieces that I have and love in my own home.

Rich Neutral Decor
Looking similar to Fall, the biggest trends for this holiday season are deep neutral colors, tones and textures. Rich browns, caramel, and charcoal gray mixed with warm brass and pewter metals are popping up everywhere, and I love incorporating velvet and faux fur for that added touch of luxury. These neutrals are elegant, go well together, and also blend seamlessly with more traditional holiday colors.
Once I selected the colors that I am featuring this holiday season I focused on creating a cohesive feel throughout our home. I gathered items that had similar colors and textures to create a cohesive style, and I then dispersed these items and accents throughout our home so that each space blends seamlessly with one another. Shop my collection of holiday purchases and favorites in my holiday collection, and make sure to check out some of my favorite ornaments in trending colors.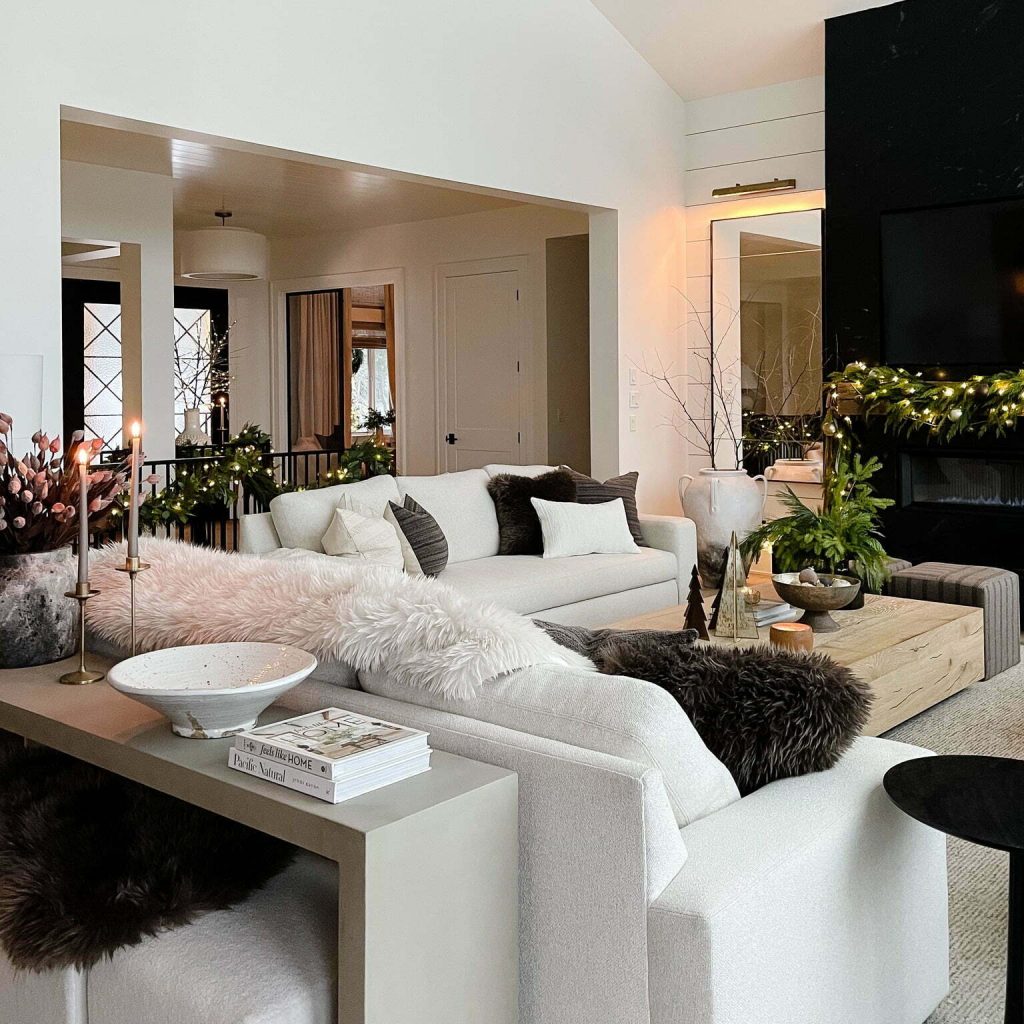 Winter White & Cream Decor
Are you a neutral decor lover at heart? You are in luck because warm winter whites and rich cream colors are also hot for holiday decor in 2022. Some of my favorite accents from last year that you will see appearing in our home again this year are white ceramic trees and Christmas villages, bead garlands, berry stems, and faux fur accents. I love the warmth and texture that these accordion trees added to my dining room shelves, and the contrast pops against my black tile. Shop my accordion trees and another collection of some of my favorite winter whites.
Mixed Metals
Can't decide between warm brass tones, bright gold, silver, copper, mercury glass, or pewter? I have good news for you because mixed metal tones are also trending for the holidays this year. Mixing different metallic tones not only creates even more depth and richness to a space but truly is the best finishing touch. One of my favorite ornament sets from Crate and Barrel is a beautiful example of how to mix gold, copper, silver and bronze. 
Twinkle Lights
There is something simply magical about twinkle lights. Lit branches, birch trees, and fairy lights have filled our home with the warmest glow and magical feeling. Twinkle lights are also trending this year which means there are even more options for adding a little sparking available. Shop all of the twinkle lights in our home and see how I planted them!
I had our holiday home photoshoot last week and I cannot wait to start sharing all of the shots from that, and more with you! Make sure to sign up for my newsletter so you don't miss out on any of the amazing deals going on all season long.