A homemade gift is a perfect way to show your appreciation for a friend, teacher, neighbor, or hostess.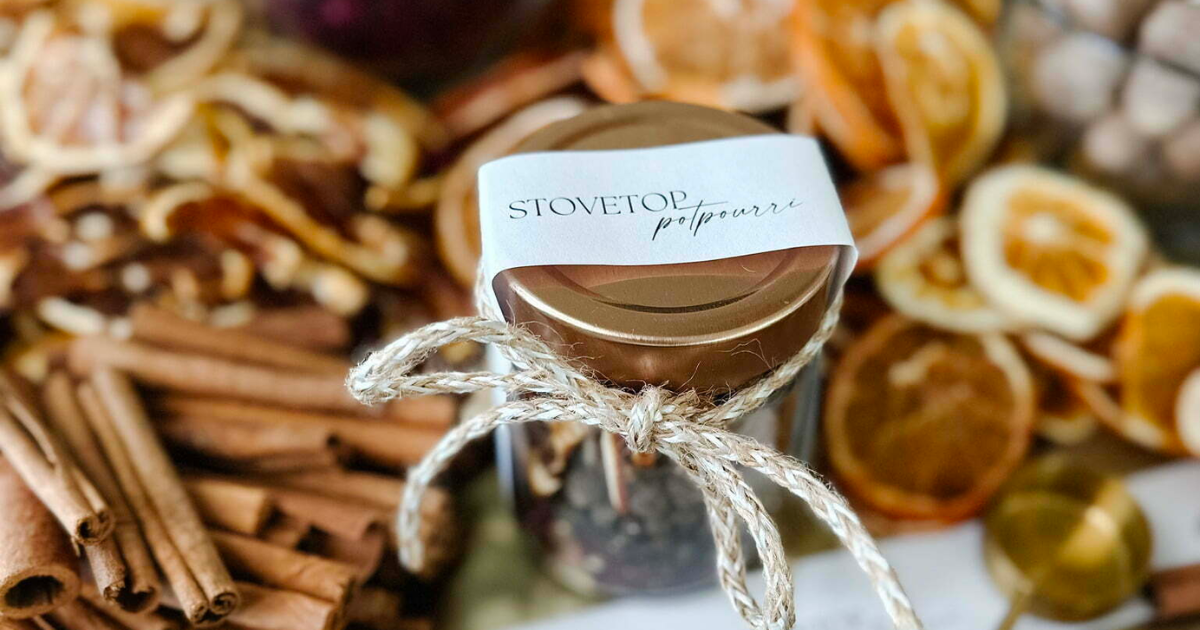 I absolutely love a beautiful simmering pot of fresh herbs and seasonal fruits to scent our entire home, but ingredients are not always on hand or in season when I'm ready for them.
I decided to try out dried ingredients one day for a simmer pot and it smelled just as good as a fresh simmer pot does. I ordered everything in bulk so that I would always have it on hand, and decided to make these cute little gifts as well. They are headed out the door to teachers next week and I have already passed out a few to other friends and family. It's such a thoughtful and simple gift to make someone feel extra special.
My Stovetop Potpourri Recipe
All you need are some pretty glass jars, a few simple ingredients, and about 20 minutes of your time. The result? A delicious-smelling house that will have guests asking for the recipe. Seal the dry ingredients in a jar until ready to use!
3 Tbsp Dried Cranberries
2 Tbsp Cloves
2 Tbsp All Spice
2 Full Nutmeg Pods
2 Cinnamon Sticks
Sprig of Rosemary
5 Dried Orange Slices
1 Dried Grapefruit Slice
In a medium-sized pot, combine 3 tablespoons dried cranberries, 2 tablespoons cloves, 2 tablespoons allspice, 2 nutmeg pods, 2 cinnamon sticks, a sprig of rosemary, 5 dried orange slices and 1 dried grapefruit slice. Add 2 cups of water, and bring to a simmer over medium heat, adding water as needed.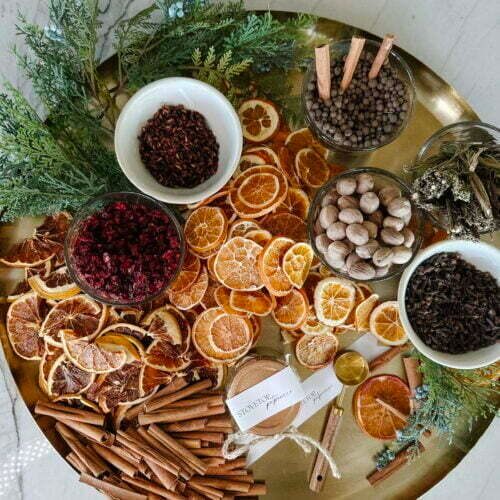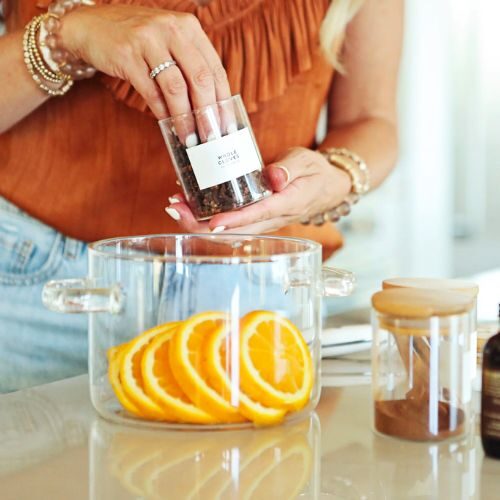 Here's everything you need to make DIY stovetop potpourri >
I made a big batch of jars and now I have them on hand for teachers, neighbors, and hostess gifts for the holiday season. If you are wanting to give a more substantial gift, you could also gift the simmer pot. My favorite is this stove-top safe glass saucepan that I have been using  for several years. Despite it stating that you cannot use it on gas cooktops, I have never had an issue. It has been a best seller of mine as well, so I know a lot of you love it as much as I do, and it would make a great gift.
Printable Label
I created this simple label that you can attach to the tops of your jars. Download and print it yourself at home. Add a simple ribbon or twine to your filled jars and your gifts are ready!
Make sure you make a jar or two to save for yourself for the next time you want to fill your home with the warm scents of the holidays!